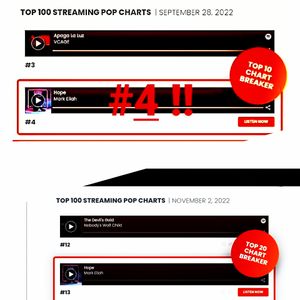 On September 28th of this year
"HOPE" held POSITION #4 !
in the Hypeddit TOP 10
Streaming Pop Charts
and altogether
engraved a TOP 10 spot for 10 weeks,
a feat to forever remain
in the record books of this period
in our time. 
Today, November 2nd 2022,
"HOPE" still stands strong
as a persistant member of the TOP 20,
closely guarding the boarders of the TOP 10.
Over a period of 4 months,
May - August 2022,
"HOPE" had consistently climbed the ranks
and
broke the TOP 100 Streaming Pop Charts
by late August/ early September 2022.
THANKS TO ALL OUR LISTENERS OUT THERE !
Hypeddit is a music platform with over 100.000 globally partissipating, contending artists. 
The road is long, with many a windig turn.
Thanks, for keeping our music alive out there !
Keep listening, keep streaming, keep loving.
CHOOSE HOPE, not despair. 
The world needs it.